Wilfried Mayer_fundamentals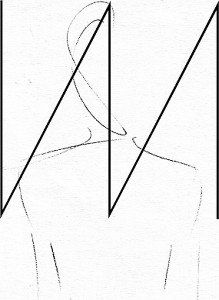 A decisive definition of fashion ought to be achieved through a redefinition of luxury.
My examination of the term starts with questioning its most common insignia.
That leads me to a research on the culture of luxury –meaning the history of refinement of individuals and etiquette. Social intercourse requires the creation of a surface which is based on the characteristics of its bearer. –That´s where fashion comes into play; the work of design being focused first on the construction of personality and second, as a derivative product, on its visual appearance.
The current economic utilitarianism with its dominant ideal of quantitative profit appears as an insulence, against which the preservation and intensifying of individual refinement becomes only possible through ease, leisure and play. –These are essential attributes for a contemporary definition of the term luxury.
They form the fundamentals for an exclusive standpoint, depending not only on a pecuniary basis, but more than anything on a mental one –which is only of rare occurrence. This rareness makes it appealing, because it contains a crucial aspect of luxury goods: scarcity.
The aesthetic positioning of Wilfried Mayer can be called "modern";
using a formal language that evolves out of a strong concern for zeitgeist,
as a productive and innovative relation towards history and tradition instead of an eclectic use of the formal repertory contained there.
Contemporary aesthetic also has to integrate the raw and the banal; its mimetic reproduction expresses an ironic distance, sometimes combined with a distopic undertone.
Wilfried Mayer / \/\/\ _Profil
Nach dem Abschluss des Modestudiums an der Universität für angewandte Kunst im Jahr 2004 arbeitete Wilfried Mayer zunächst ein Jahr lang als Herrenschuhdesigner für Bally in Mailand. Im Frühjahr 2005 war er Finalist am Hyères Festival. Im Herbst folgte die Gründung der Marke \/\/\ in Wien.
Grundlegend für \/\/\ ist der Bezug auf Herrenmode. Es wird besonderes Augenmerk auf die stilbildende Wirkung von Detailaspekten gelegt, von traditioneller Verarbeitung und Materialwahl bis hin zur Wirkung des Ensembles.
Müßiggang jenseits der Grenzen eines ökonomisch bestimmten Nutzwertes ist der Nährboden für die Ausformung einer für \/\/\ charakteristischen Haltung.
Der Gebrauchswert der Produkte erschließt sich auch über ihre symbolische Aufladung mit einem Persönlichkeitskonstrukt, dessen Selbstverständnis eine Abgrenzung zu marketingstrategischen Gesichtspunkten bedingt.
\/\/\ leistet Arbeit an einer Oberfläche, die sich am Ideal des "menschlich Gelungenen" orientiert -jenseits jeglicher Normierung.
Auf der unmittelbaren Ebene von Schnittkonstruktion, Materialwahl und Verarbeitung wird dem Qualitätsanspruch klassischen Handwerks Rechnung getragen.
-Auch dann, wenn dessen hohe Anforderungen die Absage an eine saisonal bedingte Betriebsamkeit nach sich ziehen, welche die Konzentration auf die Stichhaltigkeit des Produktes gefährdet.
Seit 2011 sind ausgewählte Modelle sowohl für Damen als auch für Herren maßgefertigt erhältlich.
Wilfried Mayer
Holochergasse 45/1
1150 Wien
Tel.: 0043 6508632931
office@wilfriedmayer.net
[legal notice:
All material shown on this blog: copyright by Wilfried Mayer.
No publication without permission.]