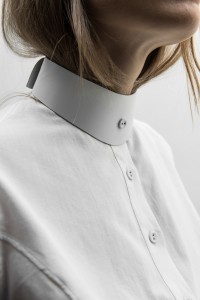 The release of a new line of ready-to-wear shirts comes after specializing in made-to-measure luxury clothes crafted according to the standards of classical tailoring.
The shirts are derived from a deep research in linen crafts and Viennese shirtmaking, reflected in the choice of specific materials, crafting techniques and details.
Wearability and easy care are combined with a durable yet aesthetically appealing product, reflecting the essence of its tradition in the light of today's requirements such as ecological sustainability and highest labour quality standards.
Available as men's, women's and unisex.
-Some thoughts on "Viennese shirtmaking":
Since my involvement with fashion design i have always been particularly interested in shirts.
They have become the main emphasis of my work by now. My growing interest led into a product research which goes back as far as around 1850. I realised that Vienna was one of the main locations for shirt production, exporting all over the world. -The one company that clearly stands out here is "Gebrüder Hönigsberg". They were a family of Jewish businessmen who, in three generations, built an internationally successful company. This was possible because of their innovative approach to something that underwent a transformation from being handcrafted at home to being an industrialized mass product. Their witty way of understanding, preserving and improving its qualities through the exploration of new technological possibilities paved their way to success.
A main reason for the success-story of the Austrian textile sector in the second half of the 19th century was the "brain gain" fuelled by migration movements of mainly Jewish people, who were among the first to notice and make use of the possibilities of industrialized production. -As soon as they were gradually unleashed from their status as second-class citizens.
Today, as we witness the rise of a narrow-minded, hostile and retarded political attitude, to which even the opportunistic establishment is giving in -and which is a serious threat to the European Idea, it seems appropriate for me to point out this one example of a truely innovative entrepreneur, whose legacy has been robbed by those who took advantage of a barbaric system, becoming barbarians themselves:
The Austrian and the German branch of the company Gebrüder Hönigsberg has been aryanized, later becoming "Eterna" in Germany and "Gloriette" in Austria. Robert Hönigsberg had to flee to Canada where he died in 1966. In their company history, both Eterna and Gloriette are claiming the legacy of Gebrüder Hönigsberg -without mentioning clearly the way it was taken.
This is dedicated to Bernhard, Ladislaus, Isidor and Robert Hönigsberg. -And to all the innovators, creators and entrepreneurs whose legacy has been stolen and forgotten.
(Most of this is based on an essay by the historian Martin Schlupp:
"Hemden und Blusen von Eterna. Geschichte eines Passauer Markenunternehmens"
published in : Passauer Jahrbuch. Beiträge zur Geschichte, Geographie und Kultur Ostbaierns
Vol. 57/2015)